It is always a pleasure for a company like ours to work in prestigious residences such as one may find on the Côte d'Azur, in these enchanted realms that border the Principality of Monaco, such as Villefranche-sur-Mer, Beaulieu, Saint-Jean-Cap-Ferrat, Eze, Nice, or Menton. It is possible to rediscover the whole history of the Belle Époque while roaming through historic villas with their delicate cornices, whose gardens, veritable havens of peace, invite relaxation and delight.
For an enterprise such as ours, it is a joy and an honor to exercise the profession of gardener in these wonderful landscapes and to offer our clients all the best that our experience and our know-how can offer. Whether designing or caring for a garden, pruning their trees regularly, tending to and fertilizing their soil, mowing lawns or trimming hedges and bushes, we know that each of these acts contributes to the beauty and singular charm of these places on the Côte d'Azur.
Armed with all our good will and know-how, we will execute all types of gardening work in the Alpes Maritimes (06) and on the Côte d'Azur in particular, and expect you will benefit from our work as much as our regular clients do.
You too can benefit from Narmino Jardins' quality of service!
For more information or to make an appointment, contact us on this page.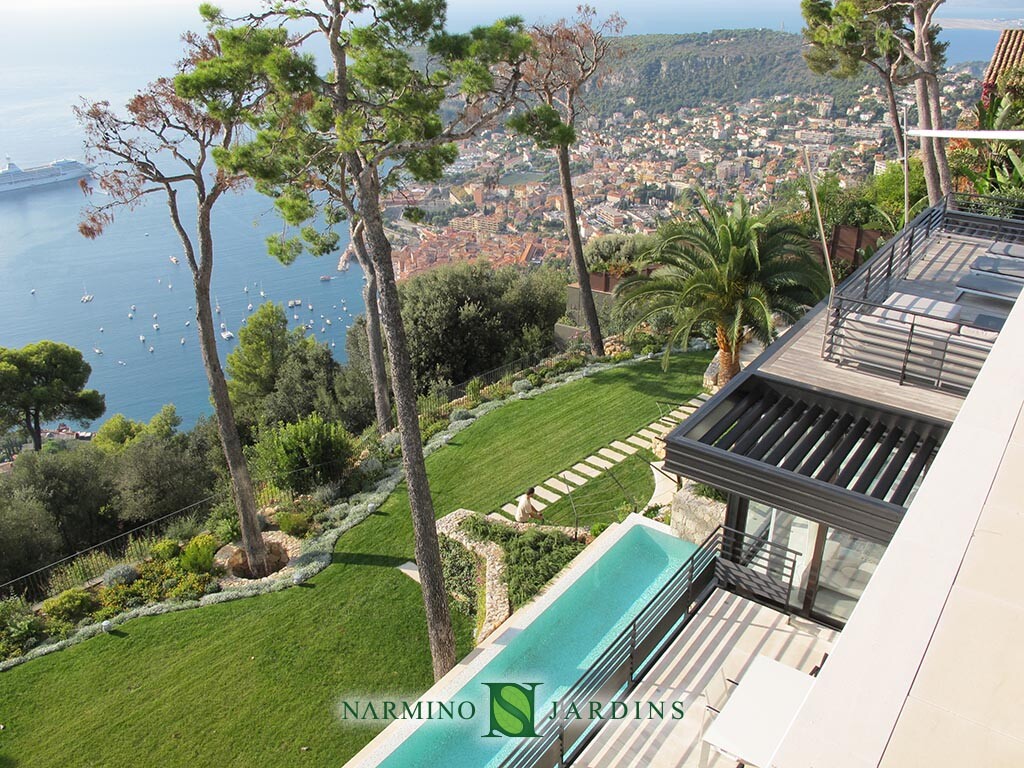 ---
The Profession of Gardener on the Côte d'Azur: Knowing How to Manage a Typical Mediterranean Climate
The Alpes-Maritime climate, characterized by strong sunlight and minimal rainfall, entails consequences in the choice of arranging your green space. The choice of a dry garden is often dictated, with its share of plants that tolerate difficult conditions, including perennials, aromatics typical in our area (thyme, sage, rosemary, etc….) and citruses (lemon and orange trees, for example).
The olive tree, a characteristic tree of our area, is well-adapted to the variety of stylistic inflections that our clients prefer for their gardens, whether the tree is already present on their terrain or whether we plant it. Other amateurs may prefer to plant more exotic plants (palm trees, aloe plants, agaves, etc…), which are perfectly suitable for the climatic conditions of our latitudes.
From a landscaping and aesthetic perspective, rock-focused areas, composed of sands, gravels, or stones may be well-suited to surround or decorate different areas of your garden.
For advice, contact us on this page.